Description
VL65 Acoustic Membrane
Features
Easy to use, cut and trim
Supplied in roll form: 5.5m x 1m
Airborne noise reduction
Very high acoustic performance
Benefits
Improved low frequency performance
Also acts as a VCL
Product description
VL-65 acoustic membrane is a high mass, visco-elastic acoustic damping membrane with the added advantage of improved low frequency performance over our other acoustic membranes. It is internally reinforced with a micro fibreglass carrier for improved dimensional stability.
Applications
Soundproofing against airborne noise in floors, walls and ceilings when used in conjunction with other low surface density materials.
VL-65 is acoustically equivalent to lead of the same surface weight.
When bonded between stiff rigid sheet materials it greatly reduces the resonance and coincidence dips.
Stapled over frameworks it greatly improves the performance of lightweight partitions.
When bonded to resonating metal panels it greatly reduces vibration and re-radiated noise.
Offers high acoustic performance when combined with sound absorbent materials.
Can be used for damping of impact noise caused by atmospheric agents on metal deck roofs.
Acoustic Performance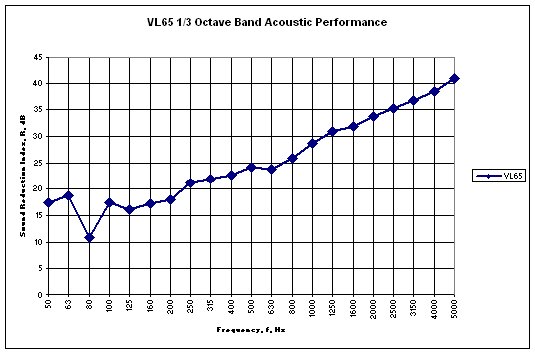 Hz
50
63
80
125
250
500
1k
2k
4k
Rw
R dB
18
19
11
17
21
24
29
34
39
28
Test Report Number: 130702/002
Technical Data
VL-65 Technical Data
Density
1.9g/cm3 (+/-0.05)
Colour
Black
Roll Size
5.5m x 1m
Weight
6.5kg/m2
Thickness
4mm
Fire Resistance
>B,s1,d0 when used in partitions as shown below
Water Vapour resistance (µ)
50000
Maximum tensile strength
350 ±150 / 250 ± 100 EN 12311-1
Elongation
±45 EN 12311-1
Cold Flexibility
-10°C; EN1109
High Temperature flow resistance
120°C; EN1110
VL65 Acoustic Membrane eliminates the coincidence dip around 2.5kHz found in rigid sheet materials such as plasterboard on studwork by 12dB.
The tests below show standard studwall constructions with and without VL65 Acoustic Membrane sandwiched between the sheets.
The low frequency resonance dip at around 160Hz is reduced by 8dB.
This superb material will improve the overall averaged Rw of a stud partition, as shown below, by 6dB.