Description
Acoustic Sound Absorbing Stage Curtains
Uses:
Dance studios
School halls
Village halls
Meeting rooms
Benefits:
Highly versatile
Cost effective
High sound absorption
Completely Bespoke Manufacture
Fire rated
ProSonic Acoustic Stage Curtains are designed to provide a degree of sound absorption within the space in which they are used. Often used in performing arts spaces they not only provide a variable acoustic environment for different applications but control excessive reverberation in halls with very reflective surfaces.
All material is chemically treated to create a DFR (Durably Flame Retardant) fabric that will withstand a number of dry cleanings. This meets the requirements of BS5867: Part 2: B which is the British Standard for flame retardant fabrics used for the manufacture of curtains.
The degree of sound absorption depends on the weight of the fabric used, the depth between the curtain and the wall and the degree of pleating.
We have two grades:
| | |
| --- | --- |
| Super Heavy | Kilo |
| DFR fire rated | DFR fire rated |
| 150cm wide | 150cm wide |
| 600g/m2 | 800g/m2 |
Tie Tops
25mm wide cotton tape ties can be sewn into the top of the curtains. This provides a quick and easy method for fixing acoustic curtains to rails or curtain rods. We can mark the centre section with a coloured tie if required.
Tab Hooks
Metal hooks sewn onto a cotton tape. An ideal fixing for most medium to heavy acoustic curtains. The hooks are very strong and have the added benefit of not being seen from the front.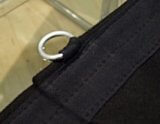 Split / Solid Rings
Either 25mm split rings or large 55mm diameter solid rings to the tops. (We can also do 11mm or 40mm diameter eyelets that are punched into the fabric. The larger ones can be used with a suitable diameter curtain pole through them).
Metal Dog Clips
Ideal for when the acoustic curtain needs to hang below the eye of the runner on the track.
Curtain bottoms
Option to add a chain weighted base which allows the acoustic curtains to hang correctly and move smoothly during opening and closing is available but pockets for pipes are also an option.
Sides
The sides are continuously hemmed and can also be fitted with velcro tape to help join smaller sections together.
Linings
Standard acoustic curtains are supplied unlined but lining options are available.
Fullness
Standard acoustic curtains are supplied as standard to 50% fullness. This means the degree of visual 'pleating' effect when open. At 50% this means the acoustic curtains are one and a half times the width of the track.
Tracks
As standard we rely on the customer to provide the mounting system but for larger more complex projects we can supply professional grade industrial tracks with either manual or motorised operation
Acoustic Performance
Sound absorption coefficients
Frequency (Hz)
125
250
500
1k
2k
4k
Class
Super Heavy G300 mounted
0.20
0.65
0.65
0.70
0.75
0.85
C
Kilo G350 mounted
0.40
0.70
0.65
0.70
0.80
0.90
C
Sound Reduction Index (R dB)
Frequency (Hz)
63
125
250
500
1k
2k
4k
8k
Super Heavy
2.7
2.5
2.3
3.7
4.3
4.6
5.0
5.0
Kilo
3.6
2.8
3.7
6.2
7.4
8.2
8.1
8.7