Description
Modular Industrial Noise Enclosures

Uses
Benefits
Fast installation
Modular
Highly durable
Fire rated to B,s1,d0
Known insertion loss
Internal absorbent walls
Modular industrial noise enclosures are bespoke and offer simple self assembly. They can be used to protect the environment and noise sensitive locations from excessive machine / plant noise.
Available with acoustic doors, ventilation and windows if required. All components are designed to slot into place based on the 450mm wide main panel footprint.
Product Data
Enclosure: Made from self-supporting modular panels, acoustic door and window.
Behaviour: Acoustic isolation and internal absorption
Industrial noise enclosure dimensions: Any size
Conformity: Health observation protocol specified for workers exposed to noise with reference to ISO 6189: 1983
Exterior: 1mm flat lacquered plate
Absorbent: Mineral fibre with black tissue facing
Interior: 0.5mm multi-perforated plate
Finish: grey – similar to RAL 9002
Supplied: Modular
For external enclosures that require a high degree of waterproofing it is recommended to install a light-weight waterproofed corrugated type roof over the enclosure.
Exploded view of simple installation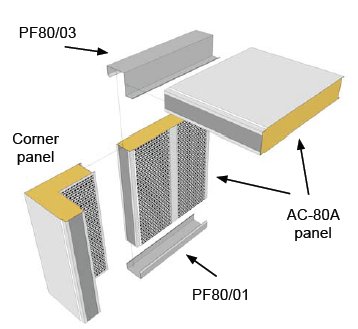 Other finish trims can be used if the roof section was to sit directly ontop of the AC80 panel. For larger enclosures internal steels may be required for structural support.


Sound reduction index Rw(C; Ctr) (dB): 32 (-1;-6)
Weighted acoustic absorption coefficient αw: 1.00
Absorption class: A
Reaction to fire: B,s1,d0 according to AITEX no. 08AN0311
Acoustic test report: APPLUS No. 06/3230085
Internal Structural Support Steels
For larger enclosures an internal steel support frame may be required for supporting the roof and bracing the walls.
This is especially relevant if silencers were to be roof mounted, which they often are, in external plant applications.
If the enclosure is inside a factory steel support is not usually required unless the size exceeds 4m(w) x 6m (w) x 4m(h).
If the enclosure it external the maximum size before support steels are required would be 3m x 3m x 4m(h) (unless any silencers are roof mounted).
External Roof Protection
For external applications a lightweight waterproof roof covering is recommended.
AC80 Industrial Noise Enclosure Roof Options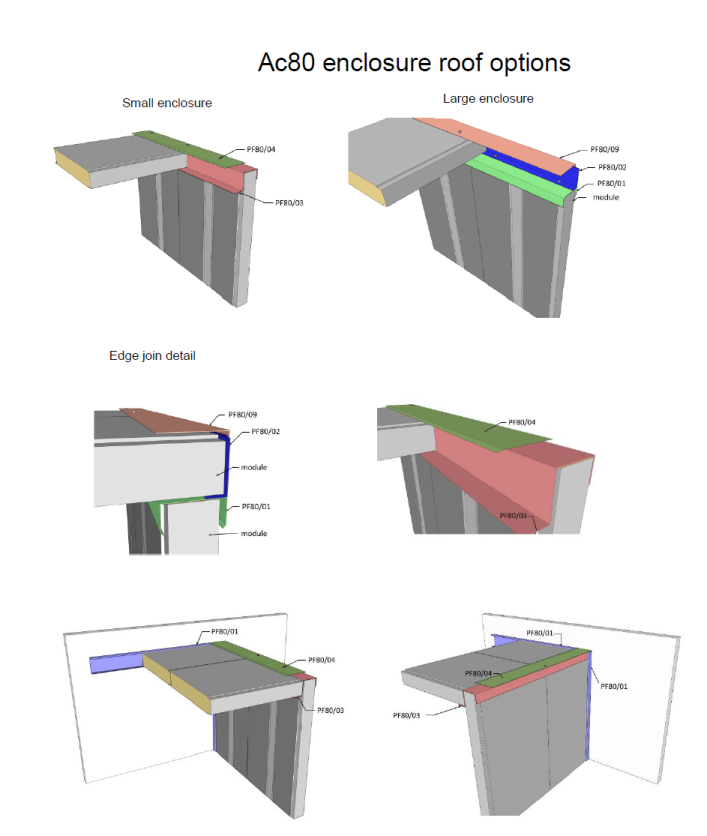 View more examples in our Projects Section
Project Images