Description
AC80 – Modular Steel Perforated Noise Barrier Panels
Modular Steel Noise Barrier solutions. With this AC-80 modular system there is no need for expensive bespoke manufacture. Enclosures or barriers can be constructed on-site using the modular sections which are easy to configure.
The panels consist of a pre-lacquered metal sheet of 1mm thickness (light grey similar to RAL 9002) with a 70kg/m³ acoustic mineral wool infill, covered with a black scrim tissue facing, behind a 0.5mm multi-perforated sheet.
Large or freestanding panels usually need a supporting frame.
The panels are T&G so slot together using the proprietary trims.
USES
Industrial plant
Enclosures
Barriers
Environmental
Factories
Energy processing terminals
Sports halls
BENEFITS
Fast Installation
Modular (can be expanded on or re-used)
Wide range of perimeter edge channels
Highly durable
Fire rated to B,s1,d0
Internal and external use
No need for expensive bespoke manufacture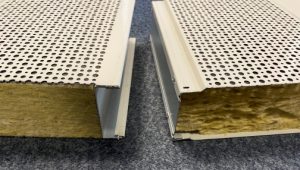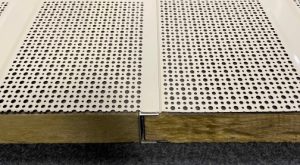 Perforations
The perforation percentage for the face of these panels is 28%. Each panel has five different kinds of perforations diameter.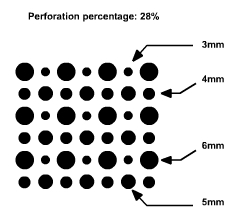 Non perforated corner units can be used for both internal and external corners.
If these panels are being used for an internal acoustic enclosure then the 1.2mm thick profiles are generally adequate. However for external application, and especially for welding, the thicker 2.5mm PF80/01 and Omega profiles should be used as the thin profiles cannot accept welds.
Accessories
For internal use for machine noise enclosures we can supply acoustic doors and windows which simply slot into place as the panels do. If ventilation is required we can supply vent systems. Generally small machine noise enclosures do not require any additional support framework but for external use as noise barriers then an internal or external support structure will be required. This may need to take into account wind loadings so it is best to consult with a structural engineer on these matters. Often support braces are required every 3m or so.
Panel Dimensions

Installation Profiles
Made of 1.2mm pre-lacquered galvanised smooth sheet metal shaped to be assembled with the panels. Maximum length is 3000mm. Special thickness of 2.5mm for barriers and special installations which require welding.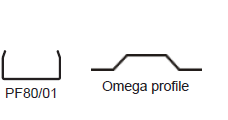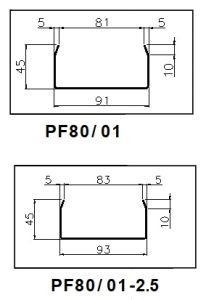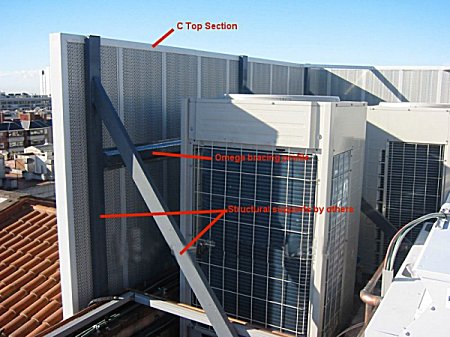 The PF80/01 'U' channels are fixed to the base, the main panels slot into this profile. The same PF80/01 can be used to cap off ends or the top. The Omega profile acts as a central 'brace' which. at 2.5mm can be welded to. Screw fixings to use are generally Wurth facade self tapping.
SPECIFICATIONS

Finish
Light grey (similar to RAL9002)
Thickness
80mm
Weight
21kg/m2
Panel lengths
2000mm, 2500mm, 3000mm or 4000mm
Perforation percentage
28%
Finishing
Rockwool with black tissue
Youngs modulus
E=210.000 N/mm2
Fire resistance
B,s1,d0 (Class 0)
Max. allowable working stress
σ=224 N/mm2
Acoustic absorption αw
1.00
Acoustic insulation
Rw 32dB
DLR
26 dB – Category B3
DLα
15 dB – Category A4
Absorption Class
A
View more examples in our Projects Section
Installation Images