Description
Perforated Industrial Plant Room Lining Panels
Perforated Industrial Noise Absorber Panels – AC-50 is a high specification, multi-perforated, galvanised, pre-lacquered acoustic panel with holes of different sizes.
These panels are designed to reduce noise and reverberation problems inside factories, plant rooms, workshops, test bays, sports halls, swimming pools and other industrial or sports type environments that require hard wearing surfaces.
The panels are very durable and resistant to impact, as well as being simple and quick to install.
All component parts of the system can be modified on site to suit easy installation.
These industrial noise control absorber panels are comprised of a 70kg/m³ mineral wool core, faced with a black film and then enclosed in an acoustic perforated steel tray sheet. This forms an acoustic panel which is both decorative and durable.
All fixing channels are of light gauge steel. As the panels are held in place by the fixing trims it is fairly easy to re-use them elsewhere if needed as assembly and disassembly is easy.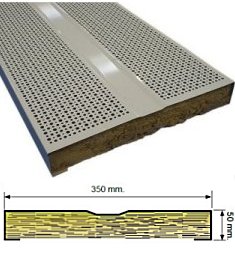 Application
These panels allow you to obtain excellent sound reduction combined with a tough durable perforated steel finish. Ideally suited for use in factories, machine rooms, test areas, workshops, sports halls and swimming pools.
They can also be used externally against building façades. Some water can enter the panels, through the perforated face, in exposed external applications. This will not cause a problem but we suggest that in these situations the panels are only used vertically and small drainage holes are drilled into the bottom 'U' trims, one for each 350mm-wide section. This will allow any excess water to exit efficiently at the bottom.
Nom. dimensions
Panels: 3000mm x 350mm or shorter 2500 x 350mm
Thickness: 50mm
U Channels: 3000mm in length
Acoustic performance
Absorption Class A when surface mounted
Finishes
Light grey (similar to RAL 9002).
Weight
8kg/m2
Fire rating
B,s1,d0 (Class 0)
Cutting
Perforated metal panel facing can be cut using metal snips, and the insulation core with a sharp knife
Maintenance
Panels can be wiped with a clean cloth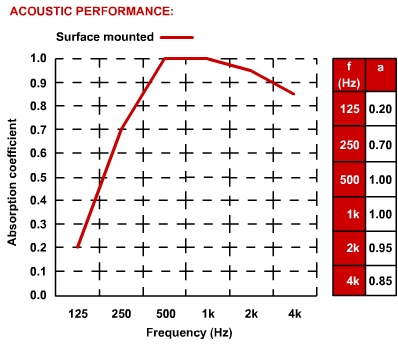 Surface Finish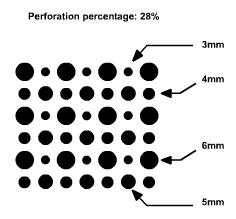 Assembly Channels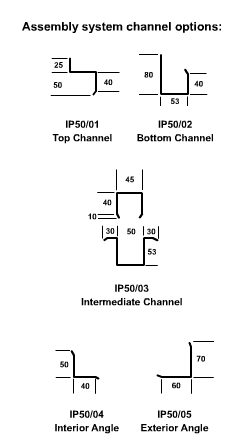 General Installation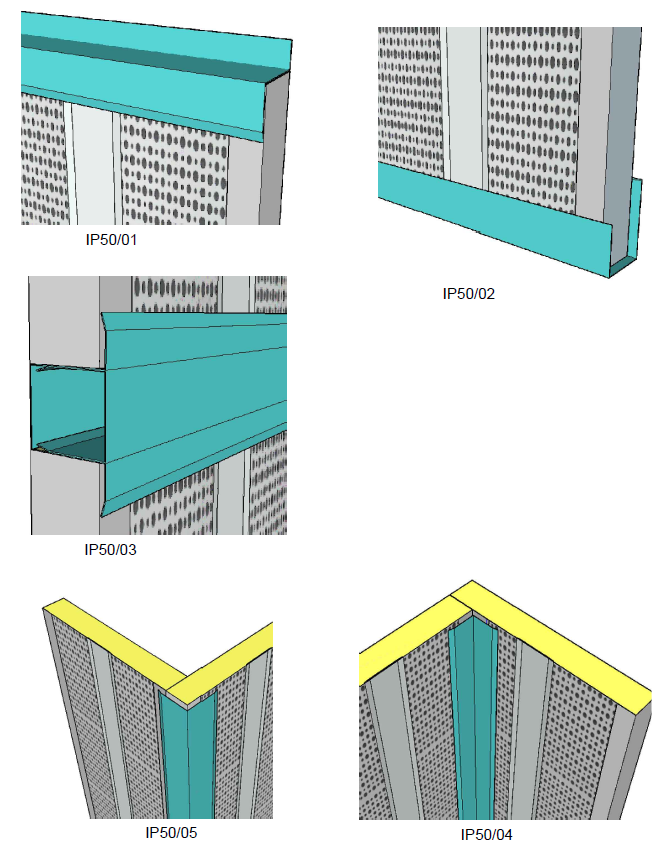 Usually the IP50/01 are fixed in place and the AC50 slot into them. The ends and top can then be finished with the IP50/01.
Alternatively The IP50/01 can be used for all four sides to provide for the same visual 'border' look.
If panels need to extend longer than 3m then the IP50/03 are used as joining sections.
The IP50/01 are used for framing the panels around openings.