Description
IsoBoard15 Acoustic Floor Overlay
IsoBoard15 acoustic floor overlay particularly suited to remedial works.
Uses:
Separating floors
Concrete floors
Robust Detail FFT5 compliant
Kitchen and bathroom areas
Benefits:
Provides significant reduction in impact noise
Easy to install
15mm thick
Does not significantly increase floor levels
Handy size 1200x600mm sheets
IsoBoard15 acoustic floor overlay is designed to provide excellent acoustic sound insulation with ease of installation. No need for separate resilient isolation layers. The product is a pre-bonded laminate of 6mm Isofibre resilient acoustic felt bonded to a thin 9mm tongue and grooved moisture resistant MDF.
Supplied in handy sized 1200x600mm sheets for ease of installation, this 15mm acoustic composite board is one of the thinnest and most hard wearing acoustic floor solutions available.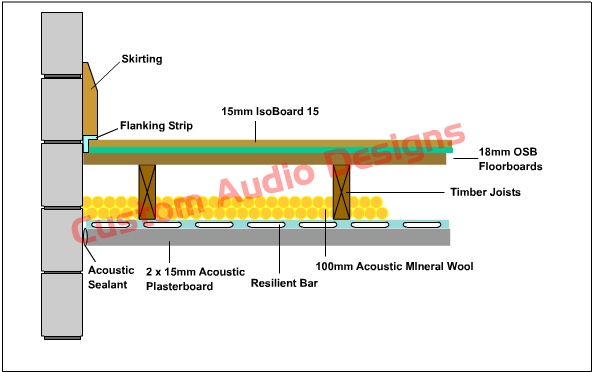 Tested Performance of the Above Structure:
Airborne              Impact
DnT,w+Ctr=  48dB    L'nT,w=  52dB
For concrete floors. IsoBoard 15 meets the Robust Details for Floating Floor Treatment 5 (FFT-5), for constructions E-FC-1, E-FC-2 and E-FS-1.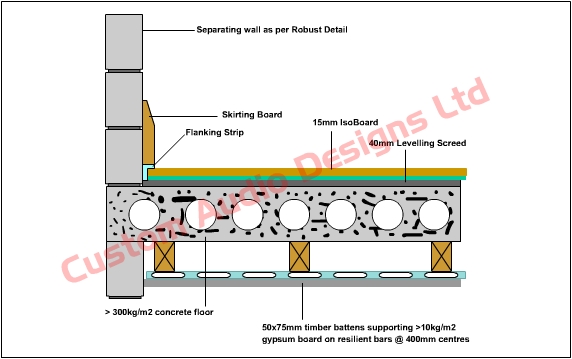 Tested Performance of the Above Structure:
Airborne              Impact
DnT,w+Ctr=  51dB    L'nT,w=  52dB
General installation instructions
Lay the boarding over a level floor, in a stretcher bond pattern, applying wood glue to all tongued and grooved panel joints.
Fix the acoustic flanking band to the edges of the boards before they are pushed up against the perimeter walls to isolate the boards from touching the wall.
Install the skirting on top of the flanking strip then cut away any excess flanking strip
General physical data
Sheet size
1200x600mm
Weight
7kg/m2
Thickness
15mm
Full system fire protection
60 minutes