Description

Manufactured from recycled rubber crumb
Uses
Vibration isolation break between masonry walls and foundations
Suitable for all types of block walls
Benefits
Easy DIY installation
Easy to cut
Thin but robust
Highly efficient
Flexible
MIS-5 and MIS-10
6mm and 10mm Masonry acoustic isolation strips: specifically designed to sit beneath blockwork walls and are a very simple and effective way to reduce structure-borne noise. Being rubber crumb, it has the benefit of longevity, minimal creep and is made from recycled material.
These Masonry acoustic isolation strips can also be used for isolating steelwork and heavy steel beams from direct wall connections and help to prevent flanking noise transfer.
Offers long term performance without failure under high load
Resistant to ageing and deformation
Easy to install simply bond to the subfloor beneath the blockwork
Capable of withstanding loads up to 0.6N/mm² (60,000kg/m²) with low frequency isolation performance achieved
Versatility: Available in widths up to 1000mm
Size: Supplied in strips to special order. The standard width listed above is 100mm wide but we can do anything up to 1000mm wide. For different widths please contact us directly.
Installation: The base floor must be dry, clean, free of dirt and dust and flat. The strip can either be loose laid or bonded to the base floor.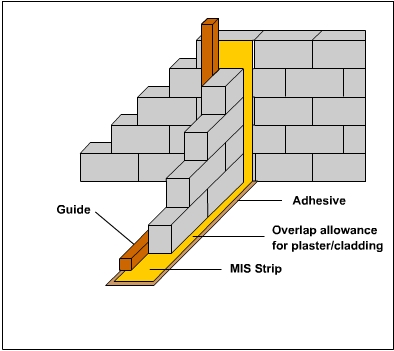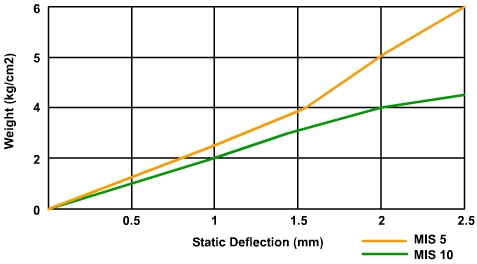 | | | | |
| --- | --- | --- | --- |
| | MIS-5 | MIS-10 | DIN |
| Thickness | 6mm | 10mm | |
| Length | 1200mm | 1200mm | |
| Density (kg/m³) | 820 | 850 | |
| Weight (kg/m²) | 4.1 | 8.5 | |
| Max. temperature (C°) | >-40 to 115 | -40 to 115 | |
| Fire resistance | >Class B2 | Class B2 | 4102 |