Description
Low cost floating floor

Low cost floating floor system using Isobase R50.
Uses:
Separating floors
Timber floors
Part E compliant resilient layer
Benefits:
Part E compliant
Provides significant reduction in impact noise and vibration
Easy to install
Only 5mm thick does not significantly increase the floor level
The product is designed to be used as a resilient layer underneath T&G chipboard type flooring. It must be used along with a suitable ceiling treatment, as shown in the diagrams below.
General physical data

Roll size
15m x 1m
Colour
Grey
Thickness
5mm
Full system fire protection
60 minutes
Incorporating the latest changes to the Approved Document E 2003, the minimum and maximum sound insulation requirements for separating floors are as follows:
| | | |
| --- | --- | --- |
| | Airborne sound reduction DnTw+C;tr | Impact sound level LnTw |
| Conversion | 43dB or greater | 64dB or less |
| New build | 45dB or greater | 62dB or less |
To comply with the requirements of the  Approved Document E 2003, IsoBase R50 sound insulated separating floors have been tested in accordance with BS EN ISO 140-6:1998 and rated in accordance with BS EN ISO 717-2:1997.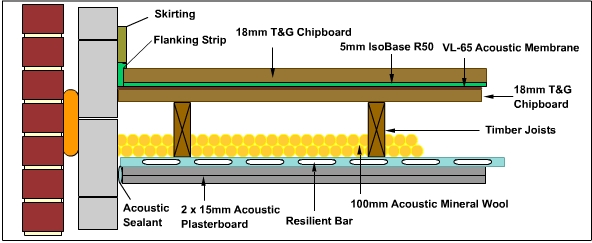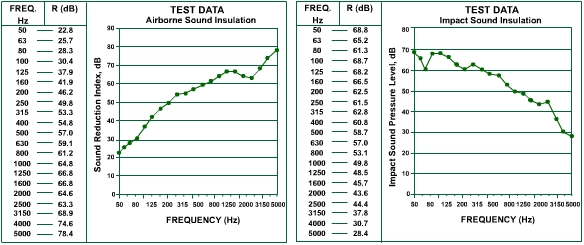 Lab Tested Performance of the Above Structure:-
Airborne              Impact
Rw=59dB (Ctr-10)    Lnw59dB
Rw+ Ctr= 49dB
Recent on site test results have been:
DnT,w+ Ctr
49dB
48dB
49dB
43dB
LnT,w
53dB
57dB
53dB
51dB
Further improvements can be made by placing 19mm Gypsum based plank over the IsoBase R50 before installing the 22mm T&G Chipboard.
If this is undertaken first then improved results will be in the order of:
Airborne              Impact
Rw=62dB (Ctr-8)    Lnw54dB
Rw+ Ctr= 54dB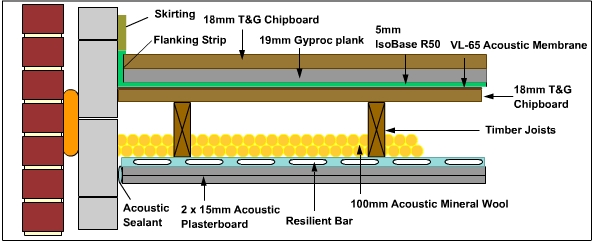 Domestic Soundproofing – Higher performing remedial flooring upgrade options
Retained existing floorboards
Sometimes customers want to add acoustic insulation but keep the existing floorboards.
This is often the case if the property has period ones.
Keeping existing floorboards can often be very problematic.
Options
A very simple, but nominal, improvement can be achieved by adding the 100mm acoustic mineral wool into the floor cavity. Additionally stapling the VL-65 Acoustic Membrane over the joists before screwing back the boards.
This does not, however, add very much isolated mass to the floor therefore improvements will not be ideal.
Improvements in airborne noise will be better than improvements in impact noise.
Fitting a strip of our high density resilient floor tape along the tops of the joists before screwing down the floorboards will help a little. This will improve impact noise transfer especially if you use screws sparingly.
Again it is not 100% ideal as there will be screw fixings, but it is better than doing nothing.
Ideally 100mm acoustic mineral wool should first be inserted between the joists. If using mineral wool in this application it would be much better to use the 100-140kg version and do not go any lower than the 60kg/m3.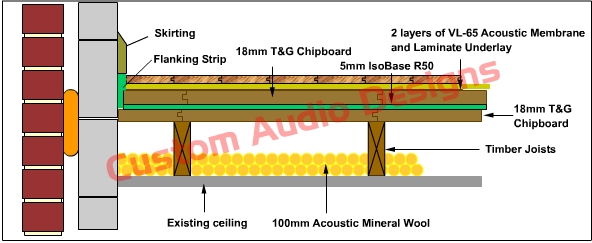 A much better solution which will greatly reduce impact and airborne noise transfer is to use the system shown below.
This involves an isolation layer of IsoBase R50 along with heavyweight damping sheet VL65 to form a much heavier and isolated acoustic sandwich.
The top layer of chipboard is floated on the R50. The floorboards can be screwed, or nailed, through the VL65 and into the top chipboard layer but these screws or nails must not penetrate through into the IsoBase layer.
If they do the acoustic isolation will be breached and the system will not work effectively.
Attention to detail should be paid at the room perimeter. You need to make sure the flanking strip keeps the chipboard from touching the wall. Also make sure the floorboards are not touching the walls or the skirting board.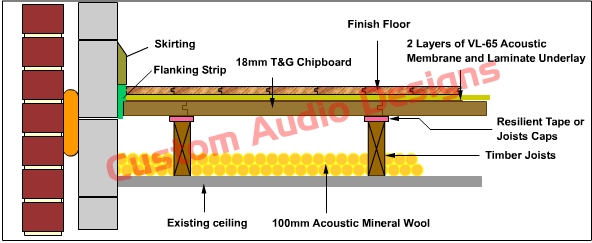 Replacing a carpet with laminate or engineered flooring
If you take up an existing carpet with good underlay and want to replace it with laminate or engineered floor you are likely to have complaints from downstairs.
In situations like this you really need a double isolation layer, one between a base board and the joists and then another between the laminate floor and the baseboard floor.
This would involve not only this product but also using a high performance wood/laminate underlay between the two sections.
Swapping out a carpet with a timber floor and trying to meet the same performance is almost impossible.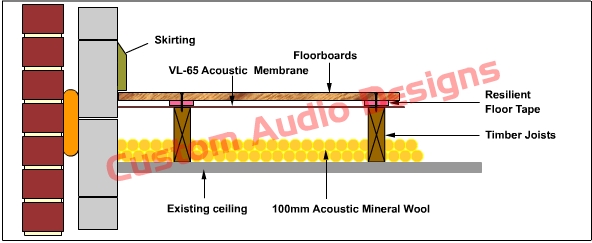 These solutions above do raise the floor height. This may be an issue but they are necessary because you are likely to not be treating the underside of the ceiling below.
The above solutions are also in some ways easier if you do not want to lift the existing base floor for any reason.
Obviously you need to lift the floor to install mineral wool in the cavity space and, if this is the case, then there are a few options for reducing the overall floor height rise.
If thinner solutions are desired you could consider using our acoustic joist caps instead, directly on top of the joists. Float the base floor of T&G chipboard on this material. It does away with the 5mm IsoBase layer and the 18mm chipboard base thus saving around 11–17mm depending on which product you use.