Description
2FTex Plus High Performance Acoustic Quilt
Product description
Acoustic Quilt 2FTex PLUS  is a soundproofing composite made up of a bitumen based mass loaded vinyl acoustic membrane bonded both sides with a 10mm layer of porous acoustic felt, offering excellent acoustic insulation in different building elements: walls, ceilings, roofs, etc.
Properties
High acoustic insulation, combined with soft, flexible elements (plasterboard, wood conglomerate).
Easy handling and application (does not cause itching)
Cold- and heat-resistant
Excellent ageing resistance
Rotproof.
Uses
Soundproofing of horizontal (ceilings) and vertical enclosures, where excellent soundproofing against airborne noise is required.
Specially recommended in partition walls.
Soundproofing against airborne noise in ceilings.
Reduction of impact noise level in all types of floors, applied underneath the flooring.
Can be fixed over frameworks before the plasterboard sheets are attached for improved isolation and sound blocking.
Can be fixed against a wall with framework pushed against it for improved isolation and noise reduction.
Reducing rain / aircraft noise in loft conversions
Technical Data

Weight
nom. 8kg/m2
Thickness
36mm
Size
5.5m x 1m rolls
Thermal conductivity
0.032W/m.°C (felt)
Fire resistance
Class F
Acoustic absorption of felt (thickness @ 10mm)

125Hz
250Hz
500Hz
1k
2k
4k
0.11
0.15
0.23
0.29
0.49
0.75
2FTex PLUS is also an ideal material for closing plenum cavities above partition walls to dramatically reduce noise transfer. Especially suited to lightweight suspended ceilings where the partitions do not go completely up to the structural ceiling soffit.
Using 2 separate layers of 2FTex PLUS with a 50mm airgap between will significantly reduce the cross-talk noise between adjacent rooms.
If the ceiling hangers can take the extra weight then additional mineral wool can be placed behind the tiles for further absorption.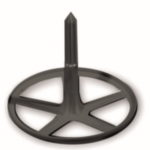 Approx. 4 plastic rossettes per sq.m. (along with our spray adhesive, or roller on adhesive) should be used when fixing the 2FTex PLUS to walls or ceilings.